Summer Fun, Scene #01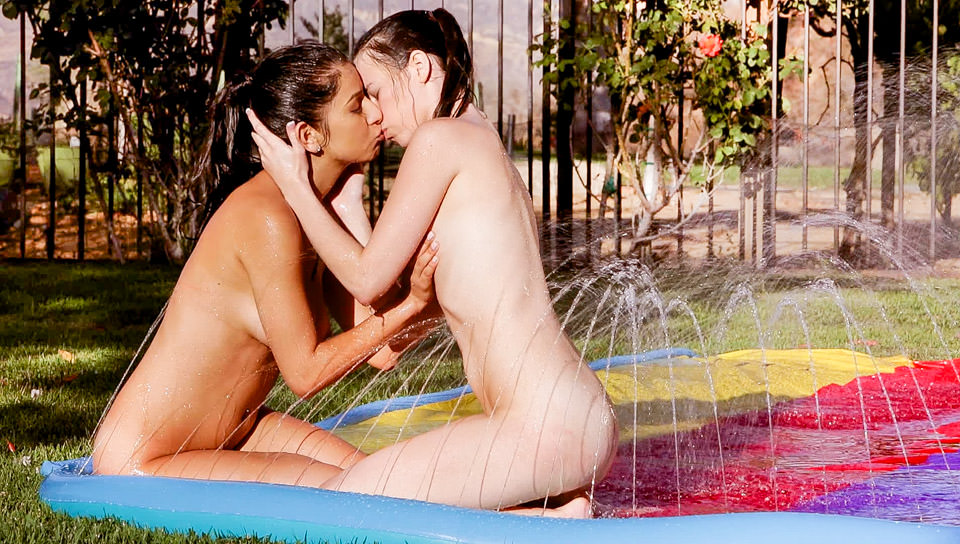 Starring
Megan Salinas
,
Veronica Radke
Categories
Outdoors
,
Brunette
,
Big Tits
,
Girl on Girl
,
Natural Tits
,
Small Tits
,
Pussy Licking
Megan Salinas and Veronika are enjoying their summer break in the hot sun. They love to go out to tan and play on their water slide. The sun gets so hot sometimes that it's unnecessary for the girls to wear their tops. Watch as they slip and slide through the water topless and in slow motion.

The girls tear their bikini bottoms from each other's bodies. With one last slide the two horny teens are at the end of the slide and they can't resist each other any longer. The two embrace and kiss passionately and find their way to the shade on a towel the continue their naughty spectacle! Veronika sucks Megan's supple teen breasts and kisses her long tanned neck. Megan makes her way down Veronika's neck to her breasts to suck them for a moment before the kissing continues. These two are completely taken by each other. Their hot making out proves it.

Megan adjusts Veronika's legs so she's in the perfect position to have her soft pussy eaten out. Megan digs her face into Veronika's shaved pussy and begins to lick her inside and out. Veronika's moans indicate she's enjoying every moment. Veronika adjusts her position creating a bridge with her body. Megan drapes her long brown hair over Veronica's body and continues to please her teen pussy with her warm tongue and her fingers. Veronika can't handle the ecstasy as Megan switches her approach and cums while staring at the world upside down! Veronica returns the favor by eating Megan's young shaved pussy out with her soft slick tongue. Megan is pushed almost to the edge of orgasm as Veronika gently squeezes her natural tits. Megan re-positions herself atop Veronica's face and finger's Veronika's pussy while she's being eaten out. Megan finally is pushed over the edge and she cums with her whole body tensing up. They fall into an embrace once they're both satisfied and kiss until dusk.