So Much Has Changed, Scene #01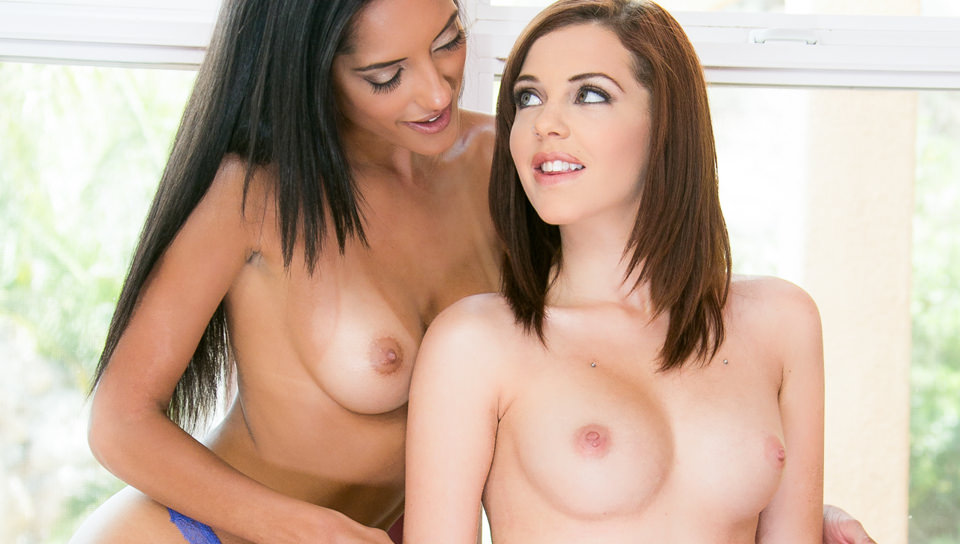 Starring
Kiera Winters
,
Chloe Amour
Categories
Brunette
,
Piercings
,
Big Tits
,
Natural Tits
,
College
,
Tattoos
,
Pussy Licking
,
Lesbian
Old middle school friends Chloe Amour and Kiera Winters are meeting up for the first time in years, now that Chloe's in college and already things are just like they used to be. Chloe is surprised to see that Kiera just got a new tattoo, on tour with her all girl band. Chloe is a sorority girl, and Kiera is so interested to know what has been up with Chloe. She wonders if maybe Chloe has tried something with her sisters... but Chloe only confesses to taking showers with her new housemates. Kiera's band has gone a bit further... she describes what it's been like to explore her sexuality with another girl from her band. Kiera asks if Chloe would be interested in fooling around, and Chloe is hesitant, knowing that they've been friends for a long time. Kiera suggests they share a kiss, and take it from there.

Chloe's first Lesbian kiss is everything Kiera hoped it would be. They share a short intimate kiss before Chloe shows her approval and soon they are making out like Chloe never expected. Kiera pulls off her top to reveal her cute bra, and they continue to make out. Kiera takes off her bra, and Chloe shows she is nervous. Some more kissing makes Chloe feel a bit more comfortable, and Kiera can peel off her shirt to reveal her beautiful small breasts. Moments of making out later, Kiera lies Chloe back gently to suck at her tasty soft nipples, pulling her panties off, and letting her get into position to start Chloe's lessons.

Kiera gently kisses and tongues at Chloe's shaved pussy until its nectar starts to run down her cheeks. To Chloe's surprise the pleasure is unimaginable, and it's not hard to tell that she has a new found pastime, that will keep her coming back over and over again. Her cries of pure intense pleasure validate Kiera's expert pussy eating. Chloe is surprised that this is happening. Kiera gets Chloe into position to try tribbing, and it's clear that Chloe likes it, by her gentle breathy moaning, and her closed eyes. It's almost as if she's in a whole new world, just for her and Kiera. Kiera is a great teacher, and it doesn't take long before their gentle moaning turns to heavy panting and increased rhythm, as they writhe their bouquet of flowers together. Chloe's turn to eat pussy has come and she rises to the occasion like a champ, Kiera's orgasm is better than she had expected, and as the afternoon ages into evening, they continue to kiss and dream about their futures.